Printable Flashcards For Preschoolers & Kindergarten
Here we have some printable flashcards for preschoolers and kindergarten children dealing with a variety of everyday objects, transportation, tools and more.
Pre K Flashcards make a very effective and valuable teaching tool for helping children to learn in the preschool classroom or while learning at home.
Why not try using these educational flashcard ideas with your pre k children and their preschool lesson plans for some unique, fun experience that kids will enjoy?
The next several pages of this preschool website have a variety of different flash card themes like animals, shapes, colors, emotion flashcards and more.
Check out & play our ABC Flashcard game online.
See our ABC and Alphabet Flashcards and use them in teaching your kids.
You can print out for free and use with teaching preschool and kindergarten kids.
Tips on Printing & Storing Your Pre K & Kindergarten Flash Cards: Flashcards Printout @ 8.5″ x 11″ *To print these flash card pages, simply 'right click' using your mouse and 'Save As' a specific file name somewhere on your computer where you will find them again. You can then open the file page you wish to print. **Keep in mind some flash cards consist of colors and will use more colored ink to print.
How To Use & Store Your Flash Cards: After printing your free flash cards, you can keep them in good condition by laminating them if you wish.
Or perhaps you want a stiffer backing to the flash cards. You could always mount the printed flash card sheet to a piece of bristol board using a thin, even layer of craft glue.
After it has dried, you can simply cut out each individual flash card using an exacto knife or pair of scissors.
Once your individual cards have been cut out and mounted to bristol board or laminated, you can hot glue popsicle sticks on the back if you desire or just use them as the small cards with your kids.
You then may want to keep your flash cards stored in an envelope for future use so you do not lose them. Doing the above will help make your Flashcards last longer and keep them looking good!
Printable Pre K Flashcards – Tools & Transportation Flash Cards For Toddlers & Kindergarten Kids
Transportation & Tools Flashcards to Print (Cards Print @ 8.5″x 11″)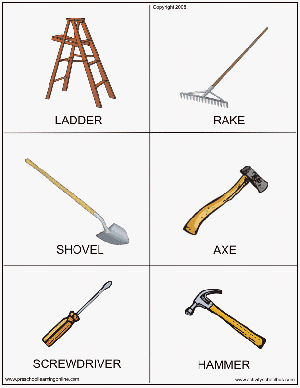 Printable Flashcards – Tools 1
Printable Flashcards – Transportation 1
Save
Save
Save