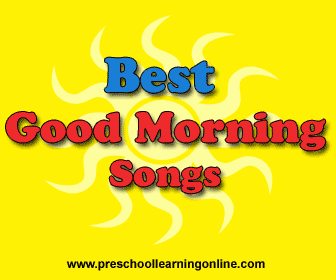 If you are looking for a Good Morning song for preschoolers and song ideas to start your day with your children, be sure to try these FUN, Good Morning songs for toddlers, preschoolers and kindergarten children.
We also include Welcome songs for preschool below as well to use at circle time etc. These simple classroom songs are fun ways to get your preschool children going in the morning and to introduce them to fellow preschoolers during circle time.
Check out our list of fun Good morning songs for kids, awesome hello songs and welcome songs etc. as found below.
Give these fun morning songs for kids a try today! If you are looking for specific kids songs to help preschoolers learn names, we have them on this website as well.
Hello, Good Morning Song
This is a fun energetic Good Morning song for preschoolers set to the tune of 'La Cucaracha.'
Good Morning Song for Preschoolers
This is a great Good Morning song for preschool circle time that encourages children to sit for circle when you include each preschool students name in the Good Morning song. This is a classic Good Morning tune that many ece's and educators may be familiar with.
Hello Songs (Here We are Together, Have a Happy Day, Telephone Song for Kids)
Various Hello songs and Welcome Songs are presented and demonstrated for use during preschool circle to welcome children. Songs Have a Happy Day, Here We are Together & the Telephone Song are presented. Children love these fun Hello songs and ideas. Check them out and give these song ideas a try.
Good Morning To You Song
Her is a variation of the Good Morning to You song. This song is demonstrated below and gives you an idea of how to use this fun song as a Good Morning song and a Hello song or introduction song for the preschool children or kindergarten children in your classroom during circle time.
Good Morning Good Morning Good Morning Song
A fun Good Morning song for kids that uses some fun, simple actions for the children to use during circle while singing along to the song. This is a fun, simple Good Morning song for kindergarten or preschool with actions for kids that they will love.