Dinosaur Theme & Lesson Plan Activities>
Themes & Lesson Plan Cds Home >
150 + Printable Activities & Ideas for Teaching
Weather Theme & Seasons Lesson Plan for Kids:
This preschool weather theme and lesson plan package about the seasons, has a variety of printable weather worksheets, printable games and fun season related recipes. Below are some sample sheets and activities for kids. Listed below, are all the theme activities, crafts, games and recipes which relate to learning about the weather. It is important to teach children about the seasons and weather. You can do this using various books, songs and related activities.
The package belwo will add to your teaching resources and give you many great teaching tools and ideas for years to come. Your children will enjoy learning with this package. Check it all out below!

Click Above To Order - $24.95 AUD
Below is a Full List of Every Printable Activity & Weather Worksheet On this Preschool Weather Theme & Lesson Plans Activities CD.
SEASONS LESSON PLANS & WEATHER ACTIVITIES
• Seasonal cards
• Weather flash cards
• Borders-for parent notice/newsletter ect
• Bookmarks
• Door hangers
• Name tags
• Four season's activity sheets
• Stained glass windows
• Original weather rhymes
• Weather calendar
• Weather collage pics
• Butterfly masks
• Spring flowers mobiles
• Rainbow shape puzzles
• Find the summer bees
• Find the spring butterflies
• Lady bug antenna's
• Autumn leaf designs
• Snowman tracing
• Snowflakes
RECIPES FOR SUMMER SEASONS
• Sparkling fruit punch
• Ice cream sangers
• Watermelon smoothies
• Fruitcicles
AUTUMN RECIPES FOR KIDS
• Biscuit leaves
• Pumpkin cookies
• Autumn berry platters
WINTER PRESCHOOL THEME RECIPES
• Edible snowman
• Winter chicken soup
• Pop corn snowman
SPRING PRESCHOOL RECIPES
• Fruit Cups
• Lady Bugs
• Chocolate birds Nest
SPRING ACTIVITIES
• Rainbow roller painting
• Cupcake flowers
• Birds nest
• Egg painting
AUTUMN SEASON ACTIVITIES
• Rain Cutting
• Splitter splatter raindrops
• Corn Cob craft
• Autumn Wreath
• Finger print trees
• Hand print trees
• Rainbow handprint
• Nature collecting
WINTER THEME ACTIVITIES
• Snow crystals
• Paper Mache snowman
• Sparkle snow paint
• Ice cub painting
• Snowman sock puppets
• Torn paper snowman
• Cotton ball snowman
• Coconut snowman
• Splitter splatter snow
• Shaving cream snow
• Sponge snow painting
• Snow prince and princess
SUMMER KIDS ACTIVITIES
• Beach scene dioramas
• Summer sand collage
• Summer picture frames
• Sunshine handprints
• Wet play Ideas
PRESCHOOL WEATHER & DAY/WEEK IDEAS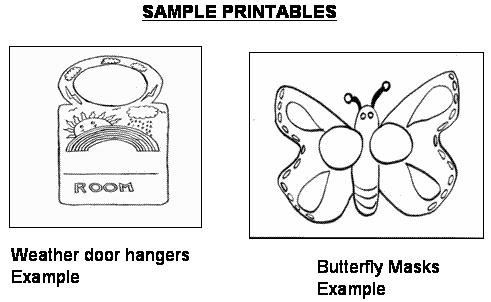 Click Above To Order - $24.95 AUD