Preschool Kids Stories Online
Children have very active imaginations today. Imagination is great for your child's creativity.
What child out there hasn't at one time been entertained by a great story idea?
There are a lot of great free kids stories online today. Kids books and stories are often used to teach children important life lessons, help them with learning how to conduct themselves, learn various subjects, life lessons or just plain have fun and imagine!
Bedtime stories, preschooler stories and other free story ideas can be useful for teaching and fun for children. You just have to know what you are looking for.
Stories & Poems for Kids (All Listed)
Parents, teachers, students and care givers can benefit from these great stories & books for kids. There are a lot of fantastic writers online, and these books and story ideas make for great educational tools as well. It just depends on the subject of the book. Be sure to check them out!
If you have any great links to some preschool stories for kids or books for children and preschoolers that you want to share, please email us the details and we will add them to our preschool website once reviewed.
Free Bedtime Stories for Infants & Toddlers Online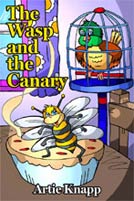 Coming Soon…
"Bipper and Wick" – A story about youth-full rebellion
that leads to an unlikely friendship. What happens
when a young bear decides that hibernation is just a
waste of time?
"Sprinting Spencer Still Wants to Run" – A former star
thoroughbred race horse struggles with his racing days
being over.
"The Hummingbird Who Chewed Bubblegum" – A little
hummingbird wants gum and can blow big bubbles.
"The Lazy Loppin Goat"- A little goat's unwillingness
to eat grass gets her accused of being lazy.
"The Rooster that Wouldn't Crow" – A story about
individuality and the right of a rooster to fall in
love with anyone he wants to fall in love with.
"The Wasp and the Canary" – A wasp comes looking for a
tasty dinner and finds a friend.